Botticelli: the master of beauty at the MART Museum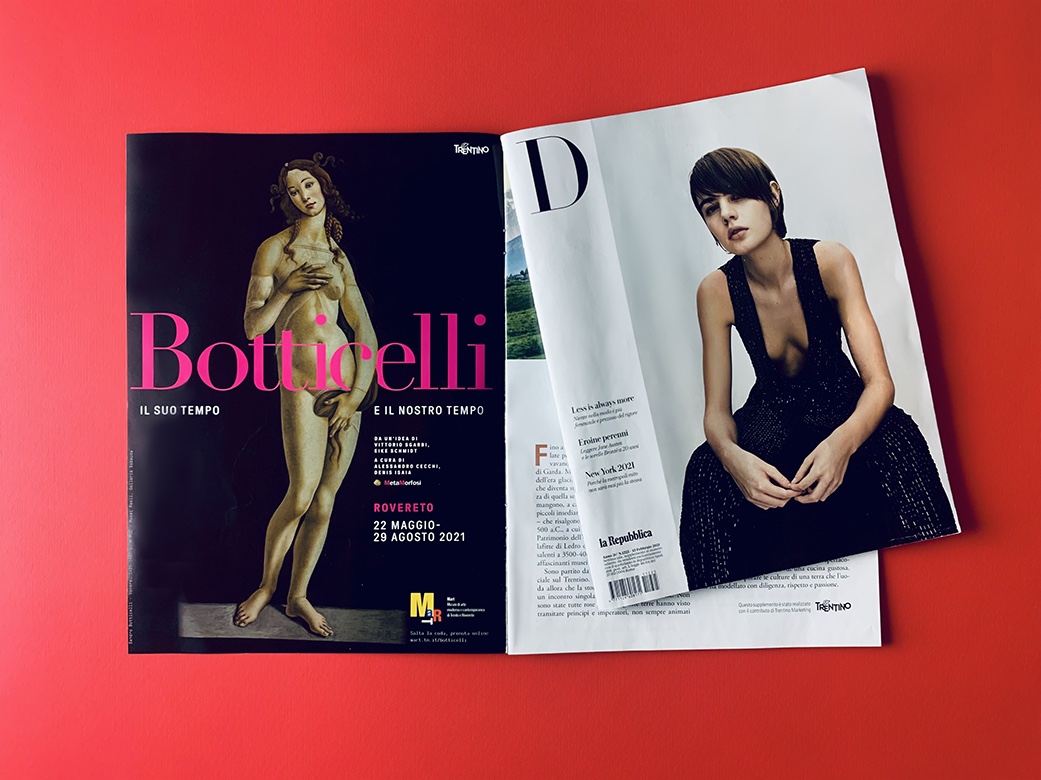 Botticelli. Influencer of influencers.
We deal with beauty every day, but having the opportunity to be involved in the creation of the new image for the Botticelli exhibition gave us a thrill of pleasure. Botticelli influenced the canons of beauty over the centuries; right, Botticelli as influencer, why not?
With the Venus he created a trend, a prototype of a spiritual woman full of grace and modesty enclosed in an ideal but disproportionate body, too long arms, too high belly button. We have to wait for Barbie, few centuries later, to have another decisive shattering of the canons.
From Botticelli influencer in Mart Museum of Rovereto we'll find the Savoy Venus, Pallas and the Centaur, and the Lamentation over the Dead Christ; then we'll see the works of artists who have allowed themselves to be influenced, greats of the past such as Filippo Lippi, Pollaiolo and Verrocchio and famous contemporary artists. From the 1960s to today, the culture of beauty cannot do without its vision, in the exhibition we'll see the masters of Italian Pop Art, such as Mario Ceroli, Giosetta Fioroni and Cesare Tacchi, and the giants of contemporary art such as Michelangelo Pistoletto and Renato Guttuso.
We overflow with emotions for this contact with Botticelli because his signs pervade the world of creativity of photographers such as David LaChapelle, Oliviero Toscani and John Currin; of fashion designers (Valentino) and cinema greats (Federico Fellini), of fashion icons such as Kate Moss. Recently, Botticelli even affected the influencer par excellence: Chiara Ferragni. All together in an exhibition for which our idea of ​​communication is very simple: a classic fluo fuchsia font brands the ultra-modern body of the Venus, essential and iconic on the black background. And who are we not to be influenced by the best known interpreter of beauty?